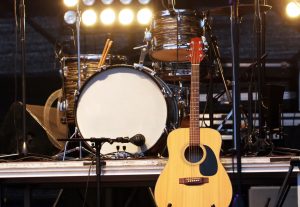 I'm writing this from the perspective of a Vermont wedding DJ who is often asked…which is better, a band or a DJ? Well, a band of course. If you can find a band that plays the type of music you want, has the proper equipment and experience required to perform at your event and the band is able to provide all of this within the limits of your entertainment budget, hire the band. Seriously. DJs are great, don't get me wrong, but there will always be a special kind of magic in the room when the actual musicians are present. As a DJ, I will do everything in my power to perfectly mix and choose your music, but I'm not creating the music. I have a very high level of respect for people with the creative skills and talent to actually make music. DJs wouldn't exist if musicians didn't create the music we DJs play.
Now that I've ranked bands above DJs, let me counter with a few important things to consider. Despite my preference for bands, it wouldn't be right for me to go down without a fight.
First of all, you may find it very difficult to find a band that can play the range of music you want for your event. I have immediate access to millions of songs. In fact, the majority of the songs I own, I have never even heard or played. That's how insanely-large my collection is. Think about this for a minute. As a DJ, I have access to literally every commercially-recorded song available in the entire world, crossing all genres from the dawn of recording history to the song that was just released when you started reading this post. Bands simply cannot compete with this. Most bands have a few hours of music. Even the Beatles only recorded about 215 songs, and they were one of the most prolific bands ever.
I don't need a break during your event. Playing music is physically demanding, so most bands will need multiple breaks during your event. As a DJ, I will work hard for you, but my work is not physically exhausting. Other than the set-up and break-down of my equipment, the only thing physically demanding about being a DJ is the fact that I have to sand up for a few hours at a time. If you do hire a band, ask them if they have the ability to play some recorded music during breaks so there isn't any dead air. Most bands can easily do this with their equipment, but you will want to ask this question before you hire a band.
DJs generally cost less. Sure, there are bands that will play for free pizza and beer. If you are just organizing a back-yard party, this might be fine, but if you are looking to hire experienced, reliable and refined entertainers, the price tag could be several-thousand dollars. A good band is worth every penny. Remember, you are hiring three to six musicians with thousands of hours of practice, tens-of-thousands of dollars in equipment and instruments and a special talent that is hard to monetize. If you can afford a good band, hire them. If a good band is outside your budget, I would generally recommend hiring a good DJ before going with a cheap/inexperienced band.
DJs are usually very comfortable and capable MCs. We can make announcements and assist with the flow of your event. Some bands are also able to do this, so make sure to ask your band when you are shopping for entertainment.
If you are still on the fence about this, contact me and I'll be happy to set you up with some local Vermont musicians who can help you make your decision. We have an excellent network of musicians here and you will feel great knowing you are supporting local artists. If after all this, you still want to hire a DJ, I'll do everything I can to make sure we meet the vision and expectations you have for entertainment at your event. The best option, of course, would be to hire a band and a DJ!