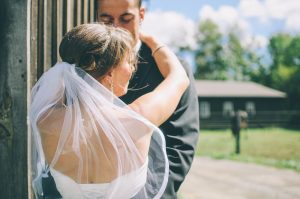 What We Do:
If you are reading this, you are probably in the early stages of a major milestone in your life. Congratulations on your engagement! We think that choosing a wedding DJ should be fun, so we never use pushy sales techniques. Luckily, there are many excellent wedding DJs in Vermont, so you will probably be in good hands no matter who you choose. We count ourselves among the top in our profession, and we hope that you will agree.
The following information is designed to tell you a little bit about what you can expect from us as your wedding DJ.
Our Wedding DJ philosophy:
We think that DJs should focus on playing great music and that the event should be centered on the newlyweds. We don't use any embarrassing antics and we don't overuse the microphone. Your guests are not coming to see a DJ, they are coming to see you, your family and your friends. Our job as a DJ is to use music to make this a memorable and enjoyable event for you and your guests. We love music, and our enthusiasm for it shows in our work.
You can count on us:
Your DJ will show up about two hours before your guests arrive. Our setup only takes about 45 minutes, but we want to have plenty of time in case there are last-minute changes to your event. We will always have a backup plan in case of an emergency and we always have backup equipment on site on the very rare chance of a malfunction. Wedding DJs must be prepared to meet exceptionally high standards, and we take your trust in us seriously.
Your DJ, no middle-men:
From the first time you call us to the day of your wedding, you will only work with one person; your DJ. We don't use a booking agent or an office manager to plan your event. It is important for you to communicate your plans and requests directly to your DJ. When you go through a middle-man, there is always the chance of some detail being lost in the loop. You should choose your DJ company based on your impression of the person who will actually be there on your wedding day. We only do one event per day…your event. You will never be customer #15 when you work with Soundrock. Our entire business model is based on quality, not quantity.
Planning your event:
We are happy to spend as much time with you as necessary to ensure that all your requests are met and all your questions are answered. We can meet in person, talk over the phone (or Skype or FaceTime), or use email to communicate your event details. Soundrock DJ customers also have access to our online event planning website. Most of our customers are planning their wedding reception from another state. Our online planning tools make this a breeze!
Booking us for your Vermont Wedding reception:
We only commit to one wedding per day, so our schedule does fill up early. It's best to select your DJ company as soon as you can. We make the booking process as easy as possible. When you decide to work with Soundrock, we will email you a contract and hold the date for you while you review and sign the contract. We appreciate a $200 deposit with your signed contract.
Rates:
$1,200 for the first 5 hours
$100 for each additional hours
(please see our rates page for discounts and details)
Please contact us any time if you have additional questions.