Our equipment works as hard as we do:
We invest heavily in high-end professional audio equipment. Most DJ companies do not have nearly the range and quality of equipment we carry. In fact, our emergency backup equipment is better than what many DJs use for their primary setups. This range of equipment provides our customers with excellent audio coverage and allows us to respond quickly to unexpected needs and challenges.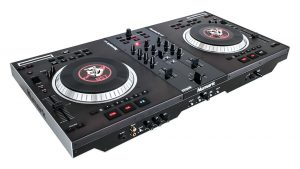 NS7 Contrlollers – the classic look and feel of turntables:
The heart of any DJ system is its controller, and we use the best controller in the industry. The Numark NS7 iii has spinning turntable decks integrated into a high-end controller and mixer. The turntables are direct-drive with slipmats and have the same torque and feel as a classic Technics 1200 turntable but in a more compact and reliable configuration.
Why not use real turntables? Real turntables must be balanced, take up lots of space, are prone to mechanical problems, sensitive to dust and skip when the table or floor are bumped. Our controllers give us all the good parts of a controller without the risks associated with using an actual tone arm and needle. They look amazing and guests often come behind the table to learn more about how our controllers work.
Sound Processing:
We use DBX equipment to customize sound output to the dynamics of your venue. We place a calibration microphone at several places throughout the room and play a series of calibration sounds to perfectly adjust the following:
Pre and post-effect equalization
Compression
Crossover frequencies
Alignment delay
Subharmonic synthesis
Limiters
Feedback elimination
Most DJs have never even heard of these tools, but we take audio quality very seriously.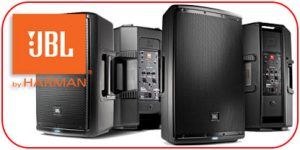 Speakers and Amplification:
All of our audio processing, amplification and propagation equipment comes from the Harman Audio group of products. This ensures that everything is integrated and purposefully designed to give you the best sound possible. Our speakers are all JBL professional speakers and subwoofers. Depending on your venue size, you can expect us to set up between 2-6 speakers and subwoofers. Your specific setup will be designed to meet the needs of your specific preferences and the shape and size of your venue.
Where required, we can set up wireless remote speakers for additional sound support in another room or outside your venue.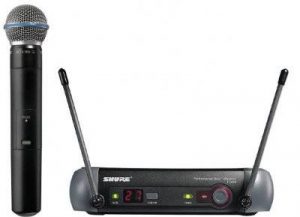 Microphones:
We use Shure microphones, including SM 58 and Beta 58 wired and wireless handhelds and Shure wireless lavalier microphones. We even have studio and headset microphones if your event requires those. By using high-end microphones, we can ensure that your event speeches and toasts aren't interrupted by annoying drop-outs or crackles.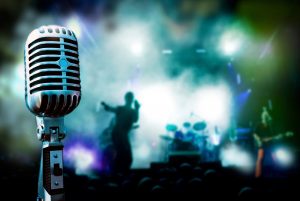 Live Audio Support:
Most DJ events don't require this type of audio support, but we can fully support small to medium live performance bands/groups with microphones, mixers, effects, multi-track recording, stage and wireless monitors and front-of-house amplification and speakers. We are also willing to support you with backline instruments, staging and stage lighting. We are well connected with local musicians and can put you in contact with some great professionals if you are looking to hire talent.
Our DJs are also sound engineers, so we are capable of handling all your live audio needs. If your event requires live musicians/singers, we can support you.
Lighting, Effects and Projection:
We can support all your AV needs including lighting and effects and projection. Please see our lighting and effects page for more details.